REPORT: FLAME RETARDANTS TOUGH TO REMOVE FROM SKIN. By Jared Paben | December 20, 2018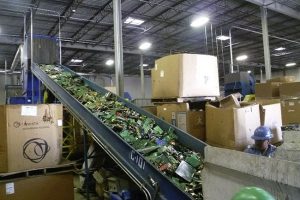 Results of a new study suggest e-scrap workers must wipe their hands multiple times at the end of their shifts to remove toxic flame retardants.
The study was conducted by scientists at the National Institute for Occupational Safety and Health (NIOSH), Harvard T.H. Chan School of Public Health and the College of William & Mary. The resulting paper, titled "Field evaluation of sequential hand wipes for flame retardant exposure in an electronics recycling facility," is slated to be published in the journal Chemosphere in March.
The study was conducted at an unnamed U.S. e-scrap facility that has both a manual disassembly department and a shredding and separation operation. Researchers tested isopropyl alcohol-soaked gauze and twill hand wipes used by 12 workers. The staff members wiped their hands three times sequentially before washing their hands at the end of the work day. Read more here.